Better Sex? Better Skin! The Best Aphrodisiacs for Sexy, Acne-Free Skin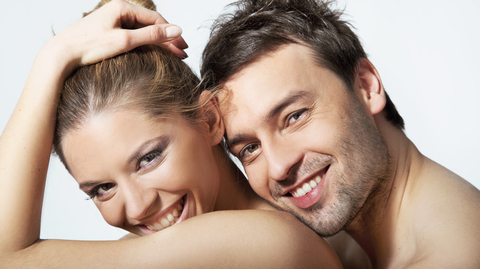 Little do many know that sex has many beauty and health benefits, including making your skin very happy! Those engaged in regular sexual activities look and behave younger, sleep better (orgasm produces endorphins and oxytocin - associated with bonding) and burn calories. Having an active sex life also increases your DHEA level; and this hormone is credited with anti-aging effects.
So, let's get that libido going!
Our daily life habits are not always conducive to the best sex. A perfect example of this is how society tells us not to eat FATS. The word "fat" became a "dirty word" in our society, and women especially have a tendency to eradicate all fats from their diet. The result is a lower libido (sex drive) and dry, aged and inflamed (ACNE!) skin. GOOD FATS such as Essential Fatty Acids (Omega 6 and Omega 3) are essential for producing sex hormones.
Celebrate Valentine's Day with an Aphrodisiac FEAST
Indulge with your loved one on this delectable aphrodisiac-laced dinner, perfect for those with acne-prone skin.
Appetizer: Fresh Oysters on half a shell, lemon wedges; arrange on crushed ice
Oysters are very rich in zinc, which is essential for testosterone production and the maintenance of healthy sperm. Even though women have far less testosterone than men, it plays a key part in the female libido as well. Oysters also boost dopamine, a hormone, which results in increased libido in both men and women.
Main Course: Broiled trout or wild salmon; stir-fry asparagus with crushed garlic; avocado salad.
Trout and wild salmon are high in Omega-3, which will certainly increase overall health and sexual stamina, improve mood and memory and of course bring a healthy glow to your skin.
Asparagus has plenty of Vitamin B that helps increase production of histamine. Histamine is important for healthy sex drive for both men and women.
Garlic contains Allicin, a compound credited with increasing blood flow to the sexual organs. Some experts believe that garlic is a very powerful aphrodisiac-but it doesn't work overnight, so you will need to make it a part of your daily diet to see the real effects.
Avocado is rich in folic acid for increased energy, and its healthy fats help many body functions. It also contains Vitamin B6, which is instrumental in the production of androgens (male hormones) that are so important for both women and men in supporting their sex drive.

Main Course Preparation
Fish:
2 medium filets of fresh trout or wild salmon
3 tbsp of olive oil
2 tbsp of freshly squeezed lemon juice
2-3 freshly crushed garlic cloves
1 /4 tsp white pepper (may substitute black)
1/4 tsp salt, or to taste
1 tbsp fresh chopped dill or parsley

In a bowl, mix (well) together olive oil, lemon juice, garlic, salt, pepper and dill (or parsley). Leave the fish fillets in the marinade for 1-3 hrs. Keep refrigerated. Take out, poor some of the marinade over the fish and broil 5-6 minutes on a medium rack. DO NOT overcook.
Asparagus:
Bunch of asparagus
2 tbsp of olive oil
2-3 fresh scallions cut into 1-2 inch pieces
2-3 thinly sliced garlic closes
Rinse the asparagus, and pat dry. Put olive oil in bottom of pan, and toss asparagus, scallions and garlic together. Let stir fry for few minutes so it stays "aldente."
Mixed Green Salad:
Mixed greens
1 ripe (not over-ripe) avocado
Your favorite vinaigrette (optional - mix with a tsp. of freshly grated ginger and a few drops of sesame oil - another great fat helpful for acne-prone skin)
Prepare a traditional mixed green salad. Peel and slice the avocado thinly along its length, and arrange on a top of the salad. Use vinaigrette to pour over salad.
Dessert: Dark Chocolate and Blueberries on a Watermelon Plate
It wouldn't be Valentine's Day without chocolate...so let's get into it!
Dark Chocolate (at least 70% of Cocoa) contains phenylethylamine, a chemical believed to produce the feeling of "being in love." Eating dark chocolate stimulates the production of endorphins, resulting in pleasurable feelings and reduced stress.


Blueberries boost dopamine levels, an energizing, stimulatory neurotransmitter, that is also known for its highly important anti-aging effect. And, since aging often leads to less interest in sex, healthy levels of dopamine will make you feel younger and more in the mood.


Watermelon is rich in L-citrulline, an amino acid that helps improve blood flow. L-citrulline supports the body in optimizing blood flow through its conversion to L-arginine and then nitric oxide. Nitric oxide is involved in dilation of the blood vessels. And when its level is low, it may result in sexual dysfunction. So L-citrulline works similar to a natural Viagra.
Preparation: On a large plate arrange thinly sliced triangles of watermelon pointing into the middle of the plate. Build a small "mountain" of the dark chocolate pieces in the middle of the plate. Surround the chocolate with fresh blueberries and garnish with fresh mint.
ENJOY YOUR VALENTINE'S DAY!
Here's to a happy and healthy life and beautiful skin!
---