For Mother's Only! Signs that Your Teen Needs an Acne Treatment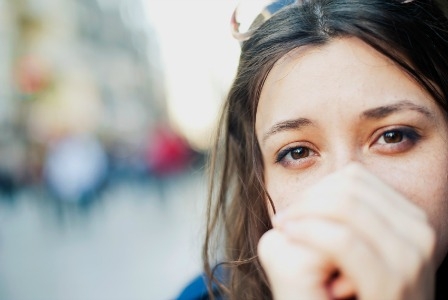 Not every pimple is acne. Pimples may be allergic hives, bites or even a sweat rash...just to name a few. So as a mother, how do you know it's time to seriously search for a safe and effective acne treatment for your fast growing teen?
Here are some basic red flags you should watch for:
Physical Signs
Acne usually develops and worsens in time. So the earlier you catch it, and start the right treatment, the faster you get rid of it and there is less risk of obtaining lasting skin damage such as acne scars and marks.
1. Oily and shiny T-zone: a clearly shiny and oily forehead, nose and chin may be an early warning for forthcoming acne
2. Oily Skin overall: shiny, oily or very oily skin represents a clear warning sign for acne
3. Blackheads and whiteheads: these represent an early stage of acne
4. Redness, inflammation, pimples or cysts on cheeks, chin, back and/or shoulders: these are fully developed acne symptoms
Psychological Signs
Acne is not just a skin disease, but for many also a disease of the soul...or a major psychological problem. Even with mild acne, many teens feel embarrassed, alienated, rejected, angry or resigned. So when the physical symptoms above are paired with the psychological and behavioral signs below, it's time to get help.
1. Withdrawal from sports and activities she/he loved before
2. Phone life quiets down significantly
3. Avoids social gatherings
4. Schoolwork seems to slip
5. Seems sad, angry or unhappy without apparent reasons
6. Complains about losing friends
7. Suddenly develops a strong liking for heavy make-up
Getting Help
Please note that we are not recommending running out to get an acne treatment just because your teen has oily skin - or if your teen withdraws from activities. We are just letting you know about the combination of signs that are seen in pre-teens and teens that are developing acne. We do suggest keeping an eye out for these signs. And if you notice that some of the signs are getting worse, or that your child has a lot of these signs at once, it's high time to do something.
What NOT to Use
The American Academy of Pediatrics (AAP) has clear standards for what should not be used as an acne treatment for younger teens. We recommend adhering to the AAP's guidelines for older teens too - there are many known side effects that occur in teens as a result of using the items listed below, so as parents, we would rather err on the side of caution.
Tetracycline derivatives (tetracycline, doxycycline, and minocycline) should not be used in younger children. Oral antibiotics can damage tooth enamel and developing bones in pre-teens.

Isotretinoin (Accutane and its generic brands) should not be used for young teens for its severe side effects

Topical antibiotics should not be used for more than few weeks and combined with a low grade Benzoyl Peroxide

Any OTC products should be used with extreme care and at the lowest possible level
There are extreme cases in older teens where one of these treatments may need to be used (in fact, Isotretinoin is only supposed to be used in severe cases, and as a last resort). We just ask you to proceed with caution, and even consult with us on the dermatologists recommended treatment. We have consulted with many families whose teens needed to go on these drugs, and we've provided them with effective alternate options so that their teen didn't have to stay on the drug for too long.
Recommended Natural Teen Acne Treatment Options
Do your research! Yes, there are many natural ways to help calm acne symptoms, however, in order to get to the root cause of your acne, and to really get rid of it, you need a treatment that will not only eliminate symptoms, but also prevent it from coming. Dabbing honey, or putting argan oil on your face is not going to get rid of your acne!
So look into natural yet science based ways to treat acne that are safe and effective. We invite you to start by taking a look at AcnEase®, the original natural medicine for acne that has up to a 98% success rate not just for mild or moderate acne, but also for cystic, chronic and severe acne. There are no side effects, no chemicals, no phyto-estrogens and it is all botanical and gluten and sugar free.
Mother's of Teen Acne Support Group
We're also thinking of starting a Mother's of Teen Acne Support Group and even a Teen Acne Support Group. We get so many inquiries daily from Moms of teens and from teens that are desperately searching for answers. And as we always say, stick with credible sources that can really help you get rid of acne. So if you would like us to start a private (and secret) Facebook group, please let us know, and we would be glad to do it. Email us at customerservice@herborium.com.
In the meantime, don't hesitate to contact us with questions.
---