Products that Amplify the Sun's Effects if You Have Acne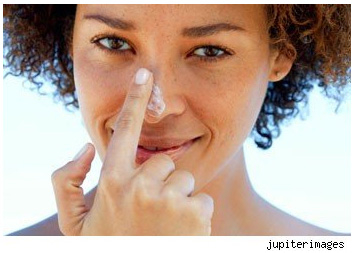 Sun is actually very important for our health. When your skin is exposed to natural sunlight (UV rays), your body produces an essentail nutrient, Vitamin D. Having the right level of Vitamin D in your body enables better bone health, psychological balance and even has the potential to assist in decreasing the risk of certain diseases.
On the other hand, sun radiation (UV rays) also damages the DNA of your skin and may result in the most serious form of skin cancer (melanoma) as well as cause dry or discolored skin, premature aging, brown spots and interference with acne treatment.
So how do you find a balance, and protect yourself against sun damage, especially when you have acne?
1. Be an Educated Consumer
If you're in the process of treating your acne, be aware of the ingredients your acne treatment contains. Most acne products increase your skin sensitivity to UV rays and therefore, AMPLIFY its damaging effect.
Here's a list of products and ingredients that require special protection against sun exposure:
Retinoic acid based topical products
Products including Retin-A (Tretinoin, Vitamin A derivative)
Avita
Renova
Retin-A
Retin-A MICRO
Retisol-A
Stieva-A
Vitinoin
Adalapene (Differin)
Isotretinion (Accutane; Curacne, Isotane, Isotret, Isotretin, Isotrex, Isotrexin, Oratane, Procuta, Roaccutan, Roacutan)
Antibiotics
Tetracyclines (Tetracycline, Oxytetracycline, Demeclocycline, Doxycycline, Lymecycline, Minocycline)
Over the Counter (OTC) Products
Products containing salicylic acid, benzyol peroxide or alcohol
2. Choose Products Wisely
Choose acne treatments that don't amplify your skin's sunlight sensitivity that will greatly reduce the effects of sun damage, while shortening the time it takes for you to treat your acne! Take note that AcnEase® is a treatment without any sun restrictions and is completely safe to take all year long.
The right sunscreen
Check the EWG's Skin Deep® Guide 2012 Sunscreen Report (the 2013 report will be coming out soon this spring) for sunscreens that base their protective properties on these two major ingredients:
Titanium Dioxide
Zinc Oxide
When both of those ingredients are at a level of 6% or higher, you are covered. Green tea extract, aloe extra, shea butter as well as some other botanical humectants (moisturizers) will keep your skin from drying. Choose a product that has between a 0-2 rating.
Keep your skin sun-safe while enjoying the sunny days and your clear complexion!
All my best,
Dr. Agnes
---