7 Steps to a Celebrity Glam Look for the Holidays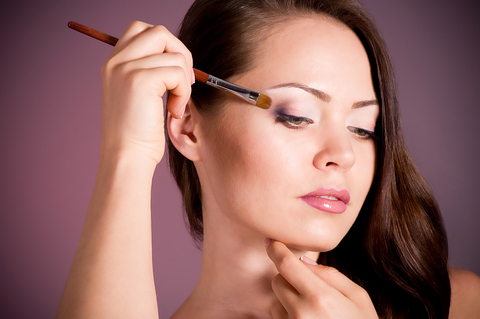 A message from Dr. Agnes...
As a follow up to Todra's EveryDay Make Up Tips, she is also giving us her trade secret techniques developed for her celebrity clients on how to change from an everyday look to a glam holiday look.
Please join me in welcoming our guest, Todra Payne, green makeup artist and President of HealthyBeautyProject.com.
By Todra Payne
The holidays always arrive with lots of party invites. And who doesn't love a party? But if you're feeling self-conscious about your skin and aren't sure how to go from everyday makeup to festive glam, it can all seem overwhelming. But putting on the glitz is easier than you think, even if your everyday routine consists of mainly lip balm. The following 7 steps will ensure you're party-ready for every invite you receive.
Step 1: Prep Your Skin. The first step in great makeup application is prepped skin. Make sure your skin is hydrated so your makeup looks great all night. I love to use pure rosewater as a lightweight moisturizer (some acne sufferers find rosewater to be a great boost for their skin, others don't. See how your skin reacts before your big night by spritzing a small area of your face). A thin layer of rosewater sometimes means you can skip moisturizer altogether. But if your skin looks dry, apply your favorite moisturizer after the rosewater.
Step 2: Choose the Right Foundation. Beautiful skin can seem elusive when you're working on clearing up acne, but you don't have to wait for completely smooth skin to look amazing. Choosing the right foundation can work wonders. To find your perfect match, swipe samples of three shades of foundation that appear to match your skin tone along your jawline. Wait ten minutes and observe in daylight. Which shade seems to disappear into your skin? That's your match! Apply lightly all over your face.
Step 3: Creative Concealing. Blemishes and breakouts don't have to ruin the holidays. With a thick cream concealer in the exact shade as your skin, you can "brush out" those trouble areas and create the illusion of smooth skin. Grab a stiff nylon concealer brush, swipe over the concealer (it should be resistant to the touch, not watery or slippery), and apply in quick, focused taps until all of your blemishes are covered. Don't apply more than is needed. The idea is to look polished, not covered.
Step 4: Accentuate your Assets. Have you always heard how gorgeous your eyes are? Or have your lips always stolen the show? Whichever feature is your best, highlight that one. Bold lips call for downplayed eye shadow and visa versa. Don't forget to choose fun shades you wouldn't wear everyday - a shiny red lip-gloss, a shimmery silver eye shadow. Or, go for a smoldering smoky eye. Play around and have fun. If the task of choosing shades seems daunting, grab a fashion magazine and look for a model with your skin, hair and eye colors and duplicate the look!
Step 5: Bat Those Lashes. Nothing adds a shot of glam like a pair of fake lashes. I'm not talking about those spider thick lashes you wore for Halloween, but subtle lashes that look like your own, only longer. You can pick up some at the drugstore for $3.99 or splurge for professionally applied strips or individual lashes at your favorite salon.
Step 6: Be Bold! If you don't have the time to invest in a whole new look for the holidays, try ramping up your day look by adding a smoky eyeliner in a complementary shade (some suggestions are eggplant, emerald green or navy blue). The burst of color will change an office look into a party look in one quick swipe.
Step 7: Blush Girl, Blush! Blush is a great way to showcase beautiful cheekbones and add a pop of color. Apply a highlighter (in silver or gold) just above your blush for a red carpet look. You'll love it in photos, too!
LESS THAN A WEEK LEFT TO OUR 30-DAY HOLIDAY COUNTDOWN TO CLEAR SKIN!
---