Your ALL-NATURAL Acne-Free Daily Skincare Routine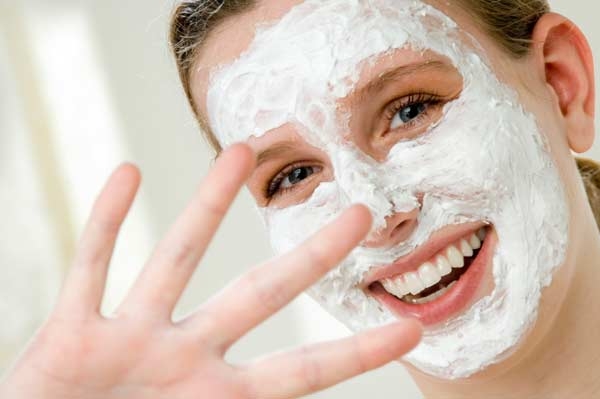 Before you begin to enjoy a daily skin care routine designed to provide you with healthy skin, please note the following general guidelines.
General Guidelines
More is not always better. Don't apply more than ONE mask daily.
Always apply a mask to freshly cleansed skin
Cleaning your face with products that suit YOU is a foundation of healthy skin
NEVER go to sleep with your makeup on
After you exercise, clean your skin
Exfoliation (peeling) should not be done more than once a week
Use your sunscreen especially after using any exfoliating/peeling products
Alternate the fruit and veggie DIY moisturizing masks; we provide you with many of them on our blog.
The best way to use moisturizing and rejuvenating masks is every other day or every two days; especially before big events - not every day.
Observe your skin; if you see that some ingredients don't agree with you (ex. make your skin red, sensitized, itchy), stop using the masks and just use the chamomile astringent only. Even nature isn't always right!
Try to use organic, non-GMO products when possible
Step 1: Cleansing
Use oil and fragrance free non-comedogenic mild cleanser. Stripping your skin from all skin oil will only make it produce more oil. Or try a dab of olive oil, and massage with fingertips over the skin. Wipe with a cotton cloth soaked with warm water (not hot) and a few drops of lemon. Do twice daily, and follow up with astringent.
Step 2: Exfoliation
Avocado has emulation-like properties, which make this a great moisturizer for acne prone skin. If you have very sensitive skin, skip this step.
Avocado Exfoliation Mask
Ingredients
2 thick slices of avocado
2 tbs. natural no-flavor yogurt
Instructions
Blend the slices of fresh, peeled, ripe papaya together with the yogurt. Blend them well until you get a compact compound, but be careful not to overdo it so that it wouldn't be easily spreadable. After cleaning your face, apply this mixture to your entire face avoiding your eyes and eyelids.
Leave the mask on for about 5 minutes, and then remove it with warm water. Pat dry. You can then apply the chamomile astringent. The mask will moisturize your skin while getting rid of dead skin cells. Use once a week (not before going in to the sun either).
Step 2a: Rejuvenating
This step is to be done on a day when you don't do the exfoliation mask. Cabbage is rich in vitamins and minerals. Its deep cleansing, anti-inflammatory and cooling action makes it a valuable mask for acne sufferers. This mask can be used on all skin types.
Fresh Cabbage Rejuvenation Mask
Ingredients
1/4 small green cabbage
1 large carrot juiced or 2 tablespoons fresh carrot juice
1/2 lemon
1 tablespoon olive oil
2 tablespoons of green clay powder (available inexpensively on Amazon)
Instructions
Throw away the outer leaves of the cabbage. Rinse and chop the remainder of the cabbage. Combine the cabbage, carrot juice, one teaspoon of lemon juice and the olive oil in a blender or food processor and puree until smooth. Mix together three tablespoons of the puree with the clay powder. Use the cabbage mask once a week after cleansing, not on the day when you do the exfoliation mask. Masks are best made and used on the same day; they don't have a good shelf life.
To apply the mask
Find a calm time when you are not rushed. Protect your hair with a towel or band and remove all makeup.
Cleanse the skin with water.
Steam your face for 1-2 minutes to open the pores (to do this, put hot water in a bowl, put a towel over your head and put your face over the bowl - be careful not to get too close, you don't want you to burn yourself!)
Apply the mask evenly (avoiding the eyes) and leave it on for around 20 minutes. If the mask has more of a liquid consistency, apply using a cotton ball. A second layer can be applied after a few minutes.
Lie down and relax - no talking! Keep your face relaxed!
Wet the mask to soften the clay first, and then remove the mask with cotton pads or a cotton towel and luke-warm water. Then dry.
Close the pores using the chamomile astringent.
Step 3: Astringent
Chamomile has anti-inflammatory and anti-bacteria properties. When applied topically, chamomile can help reduce inflammation associated with acne, razor bumps or irritation.
Chamomile Astringent
How to use: You can make your own chamomile astringent by taking 3-4 chamomile tea bags (or 2 handfuls of the dry plant) and brewing it into a very strong tea. When cooled, splash or use on a cotton pad all over your face twice a day. Keep the leftovers in the refrigerator, but use or discard in two days.
Azulene
This chamomile derivative with anti-inflammatory properties has a long respected history, dating back to the 15th century, and is used to repair and soothe problem skin. You can find after-shave lotions or oil with Azulene (choose the highest content). For the body, use Azulene essential oil which can be found in your local natural food store.
How to Use: Add this essential oil to a bath (10 -15 drops). No need to mix any other essential oil with it. Use warm water and soak for up to 30 minutes.
Do twice daily, and follow up with moisturizing.
Step 4: Moisturizing
All acne prone skin needs moisturizing, especially those with dry skin. Milk and honey were actually used by pharaoh's wives in ancient Egypt!
Moisturizing Honey Milk Mask
Ingredients
2 tablespoons honey
2 tablespoons regular or corn (non-GMO) or potato flour
2 tablespoons milk
Instructions
In a bowl, mix all the ingredients until a creamy and smooth. With the help of a brush, spread the mask on the skin to be treated (face and / or body). Leave this on for 15-20 minutes and rinse. To be done every other day or every 2 days after astringent (or after your weekly peeling).

With a promise of clear skin,
Dr. A
---