http://www.acnease.com/
Real Stories From AcnEase Customers
Stop Getting Breakouts Time and Time Again!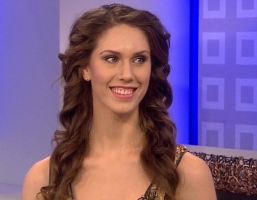 After
Cassandra Bankson
In the third grade, she got her first pimple. Her acne finally progressed to the point that at age fourteen she ended up developing severe acne conglobata (a disfiguring aggressive form of cystic acne) that covered 85%-90% of her face and most of her body. She was severely bullied by her peers because of her extreme cystic acne and physical appearance. This led her to become both reclusive and emotionally distraught that she opted to leave her public high school in favor of a private school where she worked with teachers directly so she would not be bullied and teased about her severe skin condition. She distanced herself from her friends and concentrated solely on schoolwork, enabling her to graduate two years ahead of her class.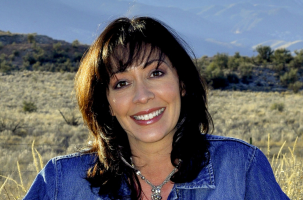 After
Linda D.
I have been an AcnEase user for several years now. Since my teens I have tried every topical acne treatment from benzoyl peroxide to pumpkin acid peels. I spent 15 years as a model and actress and learned every trick in the book for covering up my skin eruptions with makeup but there were times that the bumps and redness were such a distraction that it took a lot of effort from the make-up artists and photographers' lighting to compensate for the issue. In my thirties I even resorted to a series of extremely painful photo facials with the promise that they would stop my acne and get rid of the scarring.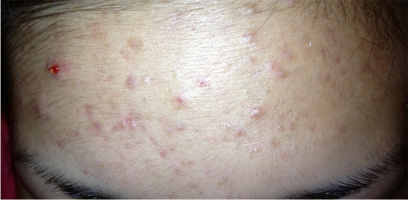 Before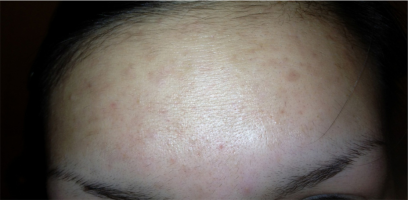 After
Ashley
Hi, my name is Ashley. I am 16 and I have used AcnEase for about 2-1/2 months with 8 pills a day. My acne is moderate. I noticed a difference in the first week taking it. I love that the pills are easy to swallow and there are no bad side effects. I would recommend these pills because they aren't harmful like other pills because they are natural. My forehead definitely cleared and I am satisfied.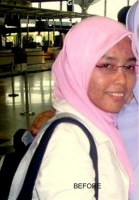 Before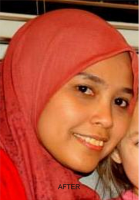 After
Powerful Result after taking AcnEase
Hi There
I started to take AcnEase, and my skin started to clear up 2 weeks later. I had severe acne problems and have tried so many different expensive products and medication, but its proven that AcnEase was the best for my skin and I really enjoy having the skin I have now. I will highly recommend this product to all people who suffer skin problems like myself. It's worth every penny!

Million Thanks
-Rashidah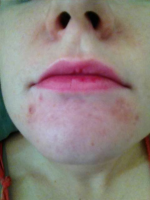 Before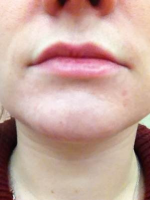 After
Julia D., age 27
Since my late teens, I have been getting periodic outbreaks around my mouth and on my chin. It seems to correspond pretty closely with my cycle. I will be relatively free of new pimples for the first half of my cycle. Then, as soon as I start
the luteal phase, I suddenly get an explosion of small painful pimples
that start off deep below the skin (I couldn't express them if I
tried), then they come to a big head about 4-5 days later. My skin is very
sensitive and prone to blemishes so even after the pimple goes away
there is a blemish there for several weeks. I also get encapsulated
black heads (not quite white heads but like blackheads with a layer
covering them) around my mouth and at the center of my chin.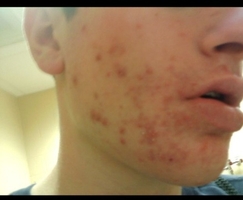 Before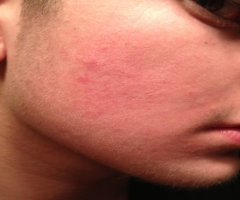 After
My AcnEase experience
Well first I would like to say nice to meet you, and thank you for all your time. Attached below is my story/journey of acne and also my experience with acnease.
To say acne has ruined my life is an under statement!!! Every thing I have done and nothing ever seems to work, there simply is no other way to say it. It all started about 4 years ago in 7th grade I was 12 years old, and that is when my life changed forever, I got acne.
Ayesha
I had always been skeptical of different acne websites claiming they could cure acne in just a matter of days or weeks. My mother had found the Acnease website and I still remember thinking oh god, not another one of these companies claiming to eliminate acne for good etc. My thinking was like this because I was so extremely depressed and pessimistic about anything working because my acne was so, so, so, so, so stubborn. My acne is not hormonal and this made it even more difficult to understand what was causing it.
Previous
Next