Skin-friendly Valentine's Day Cocktails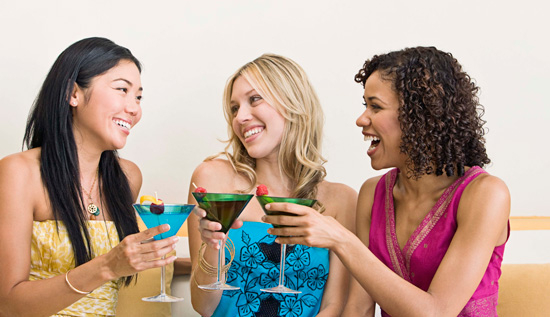 Having acne-prone skin doesn't mean having to miss out on all the fun of either celebrating or not celebrating Valentine's Day! You can still enjoy yourself and enjoy a cocktail right alongside your friends without exacerbating your acne.
You might be wondering what sort of cocktail you could sample (of course, if you are 21 years old or older and... in moderation) that won't give you sugar overload and negatively affect your skin. Try these 2 amazing cocktail recipes - your friends won't believe how healthy and skin-friendly they are!
Melon Skin-Refresher Cocktail
The freshly squeezed fruit juices in this cocktail are rich in vitamins and minerals that are readily absorbed by the body in order to revive problem skin and even provide additional energy. Parsley is rich in nutrients (especially iron) and will help bring a healthy glow to your complexion. A little coconut rum turns this healthy concoction into a drink fit for a party. Try to choose organic fruits and vegetables when possible.
Ingredients
½ honeydew melon

6 grapes

¼ cucumber

Splash of Malibu Rum
Ice
1 sprig parsley
How to make it
Combine the melon, grapes, cucumber and rum all together in a juicer* and process. Make fresh before consuming because the nutrients are most effective and potent at this point. Pour over ice, top with parsley and serve.
*You may of course prefer to use a cocktail shaker rather than your juicer.
Carrot and Pineapple Skin-Friendly Cocktail
This fresh juice is full of beta-carotene, the precursor of vitamin A. Carrots help to clear spots and blemishes and help boost the skin's resistance to UV light. Combined with pineapple, the juice will help to stimulate digestion and regulate the metabolism. Again, try to choose organic fruits and vegetables when possible.
Ingredients
4 large carrots
2 generous slices of pineapple
1 ounce vodka
1 ounce orange liqueur
½ ounce freshly squeezed lime juice
Fresh wedges of pineapple for the rim
How to make it
Process the carrots, pineapple, vodka, orange liqueur, and lime juice together in a juicer. Pour into a chilled cocktail glass, and add a pineapple wedge on the rim. Voila! Easy, tasty, skin-friendly cocktail you and your friends will love!
If you want to enjoy a skin-friendly cocktail this Valentine's Day but are still worried it will exacerbate your acne, just remember that a little alcohol in moderation is okay, and be sure to take your AcnEase to prevent any flare-ups!
With a Promise of Clear Skin,
Dr. A

---