Super Skin Cleansing Smoothie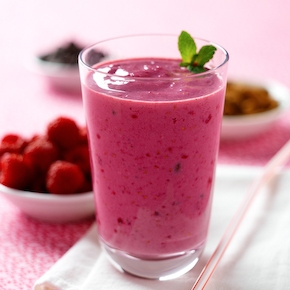 After a holiday weekend of indulging in carbs, sugars, alcohol and sun exposure, are you worried that zits and flareups will come fast and furiously?
Try this healing drink. It will reduce inflammation, provide a healthy dose of antioxidants and help your skin, and body, to regain a healthy balance. Its anti-inflammatory properties are thanks to the enzyme bromelain in fresh pineapple (only fresh or frozen will do - canned pineapple has no enzymes left) and the gingerols in ginger. Extensive research shows that the compounds in ginger may be more potent than many anti-inflammatory drugs. Raspberries are known to be a great source of Vitamin C, and also have a number of antioxidants as well as fiber that absorbs toxins.
Ingredients
Please use ONLY FRESH or FROZEN ingredients and organic when possible. Cans/powders will NOT do.
1/2 pineapple, outer skin and core removed
1 1-inch piece of ginger
½ cup of raspberries
Directions
Put all ingredients through a juicer or blend in a high powered blender with a splash of cold water or ice to suit your preference. Add water and ice slowly, and in small amounts, so you get a consistency you like. Garnish with a spring of mint. Serve over ice or as is, and drink immediately.
With a promise of clear skin,
Dr. A
---